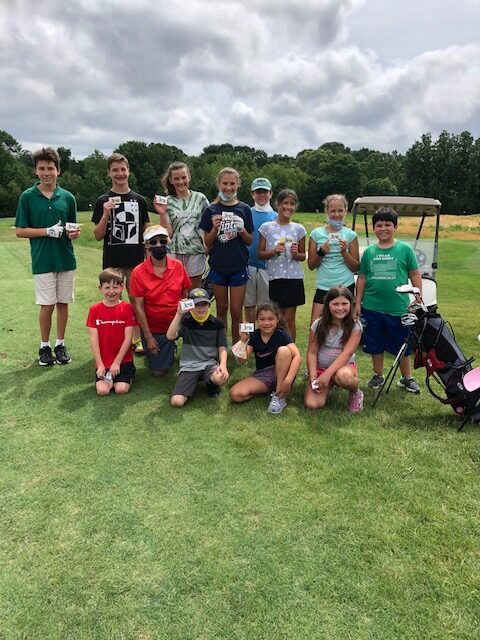 Button Hole Kid's Cup
Do YOU have what it takes to win the coveted Kids Cup?
Long a tradition at Button Hole, the annual Kids Cup gives children a unique opportunity at competition golf. The three divisions offered, u16 boys, u10 and u16 girls, gives kids the opportunity to compete against golfers their skill level and age. Nearly 40 Kids take to the course each Monday night to showcase their skill, drive and passion for the game. This affordable league is all about being FTK (for the kids)!
For 2021 – Monday June 28th through August 16th. Tee times range from 9:00am-10:30am every Monday. 
Must be between the ages of 8-16 compete at the start date. Only $5 to register and $1 per week!
Email League Coordinator Evan Theroux at etheroux@buttonhole.org to register
Lesson Expectations
Prior to the start of your child's class we would like to go over safety concerns, restrictions and precautions as it pertains to Covid-19. The following requirements are mandatory, and will be strictly enforced.
Please bring your own clubs. If you do not have clubs we will do our absolute best to outfit you with loaner clubs, but nothing is guaranteed. We have limited clubs available for those of you who do not have your own. The clubs will be disinfected and must remain with the student for the duration of the 6 classes. Students are not allowed to borrow or exchange clubs with other students. Upon completion of the last class the clubs must be returned to their current instructor.
Parents must keep a distance of 6 feet from non-family members including instructors at all times. When instructors are coaching it is not acceptable for parents to step in. Instructors and students must wear masks when closer than 6 feet. Once the instructor steps back the masks may be removed.
Masks must be worn in the parking lot at all times. Masks may be removed once you are on the range or golf course and 6 feet away from non-family members.
Make-up classes are NOT ALLOWED! Due to RI safety guidelines, individuals in each class must remain as "stable groups" throughout the duration of the session. If you miss a class your only option is to re-take the series. The retake fee is $20. If the class in question is the last (6th of 6) of a Beginner Class, arrangements can be made with Shane drury for students to take the written test which completes the requirements for their Button Hole Kid Card.
No congregating after lessons. Once class ends you must exit the facility immediately with your masks on. If you decide to practice further on the range or play the course masks must be worn at the counter while paying your fee. Once you are on the range or course your mask may be once again removed.
 PLEASE BRING WATER!!! WE HAVE SMALL BOTTLES BUT DISTRIBUTING WATER MAY BECOME AS ISSUE
Thank you for your understanding in this unprecedented time.
If you have any questions or concerns please contact Shane Drury. 
Thank you,
Shane Drury, PGA
Head Golf Professional & Program Director
Button Hole Golf Course & Teaching Center
401-421-1664 
sdrury@buttonhole.org